HOMER "PAPPY" SHERRILL
1915-2001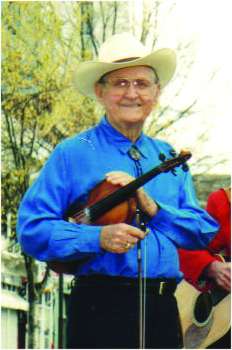 Go to the Archives to hear Pappy Sherrill


Written by Pat Ahrens for Fiddler Magazine, Spring 2001 issue

At the age of seven, Homer Lee Sherrill was given a Sears and Roebuck $1.98 tin fiddle and shortly afterwards got his first taste of performing, working for his father, who was a farmer. Pappy recalls, "I used to fiddle for my daddy to help him sell watermelons. By noon all ours would be sold and we'd leave the other farmers standing out in the hot sun."

Born in Sherrill's Ford, North Carolina, Pappy's first professional performance was in 1928 at radio station WSOC in Gastonia, North Carolina, when he was thirteen. His career began in earnest in 1934 with his performances for the Crazy Water Barn Dance on Charlotte, North Carolina's WBT, where he led the band "Home Sherrill's East Hickory String Band". Historically one of the first manufacturers to sponsor country music, these Crazy Water Crystals live radio performances produced many musicians who became famous, among them the Father of Bluegrass Music, Bill Monroe.

Continuing to play for Crazy Water Crystals, Pappy joined The Blue Sky Boys (Bill and Earl Bolick) on station WWNC in Asheville, North Carolina, for about two years before moving on to WGST in Atlanta, Georgia, as The Crazy Blue Ridge Hillbillies. It was in Atlanta that he met his wife, Doris Lyle. Forming a new group, The Smiling Rangers, Pappy's next move was back to Raleigh, North Carolina, at station WPTF. From Raleigh, the Rangers moved on to Danville, Virginia's WBTM. By then, Pappy had become among those of the first generation of musicians to earn a living from radio performances. Pappy cut several records on the RCA Bluebird label with Wade Mainer and Zeke Morris in 1936-38.

In 1939, Pappy moved his family to Columbia, South Carolina, and joined Byron Parker's Hillbillies to play on station WIS. It was a fortuitous event that cemented his friendship with banjoist "Snuffy" Jenkins and developed into an extraordinary partnership lasting more than a half century. As a member of this band, Pappy recorded a number of records on RCA's Bluebird label in 1940, and on the DeLuxe label in 1946. After Byron Parker's untimely death in 1948 at age thirty-seven, the band renamed themselves The Hired Hands in his honor. Parker had been a phenomenal radio announcer who, in working at WAAW in Omaha, Nebraska, became acquainted with Bill and Charlie Monroe and booked their personal appearances. He had always signed off the air as "your old hired hand."

Via their daily WIS broadcasts, The Hired Hands became South Carolina's premier country band. Pappy's lively version of "The Orange Blossom Special" would call folks from field to radio for their noontime program. Pappy had learned the tune directly from its composer, Ervin Rouse, in 1938 while both he and the Rouse Brothers were in Danville, Virginia. Pappy played it on show dates after the Rouse Brothers had recorded it for RCA. Pappy's fiddling directly helped to popularize this now-famous tune. Even though he has performed for every conceivable kind of audience, Pappy has never forgotten playing back on the "Kerosene Circuit" when only lanterns lit the stage. The applause sounded just as sweet then as it did in 2001 in places like the Newberry Opry House in Newberry, South Carolina.

Already veterans of live radio productions, The Hired Hands appeared on WIS-TV the very first day of broadcast. From 1954 to 1958, they conducted an hour television show once a week called "Carolina in the Morning." National acclaim came to Pappy and Snuffy in 1973, when Esquire magazine printed an article featuring the banjo. Other articles in publications such as Bluegrass Unlimited, Banjo Newsletter, Pickin', The New York Times, and The Village Voice have all recognized their historic contributions to old-time as well as country music. Their early recordings on the RCA Vintage Series, Early Rural String Bands and The Rail Road in Folksong, are now collector's items.

Over the years, The Hired Hands played such prestigious venues as the 1982 World's Fair, The University of Chicago Folk Festival, The Joffrey Ballet, Wolf Trap, the Washington, D.C. American Folk Festival, and Carnegie Hall. They were filmed in a captioned documentary, "Free Show Tonight," which was made by the Smithsonian in tribute to the early entertainers of vaudeville and medicine shows.

Pappy has met, listened to, and sometimes performed with many musicians whose names are legendary. While in Atlanta, his contemporaries were Clayton McMichen, Fiddlin' John Carson, and Riley Puckett. In North Carolina, they were Charlie Poole, J.E. Mainer, and Jimmy Shumate. He fondly remembers a suppertime visit from A.P., Sarah, and Maybelle Carter. He performed with Jimmy Davis, the former governor of Louisiana and composer of "You Are My Sunshine," and country music and movie star Tex Ritter. Songwriters Mel Tillis and Roger Miller both performed with The Hired Hands while stationed in the Army at Ft. Jackson in Columbia.

Many honors have been bestowed on Homer Lee Sherrill during his career. He is a recipient of the North Carolina Order of the Long Leaf Pine, The South Carolina Folk Heritage Award, and is a member of the South Carolina Music and Entertainment Hall of Fame. Pappy was picked as a participant for the prestigious Grassroots to Bluegrass project, which was filmed in Nashville in 1999, and shown on TNN. Pappy's contribution to traditional music in both the Carolinas is a continuing legacy and an achievement few have equaled. He possesses a vast knowledge of old- time fiddle tunes and has contributed many of his own originals, such as "CNW Railroad Blues," "Peanut Special," and "The Cherry Blossom Waltz." Some of his personal favorites that he also enjoys playing are "Leather Britches," "Grey Eagle," "Billy in the Lowground," and "Listen to the Mockingbird." He said his favorite waltzes are "Good Night" and "Peek A Boo."

As our visit with Pappy and a fun-filled afternoon of fiddling was finished, my friend Chris and I began to case our instruments. As an afterthought, I turned to him and said, "Pap, I've told Chris about when you used to do all your trick fiddling and he's never seen anything like that. Do you still do it?" The genuine surprise on his face turned wistful as he momentarily paused. Then, with the same shy smile, the unmistakable strains of "Pop Goes the Weasel" came from his fiddle. Gracefully, and with an age-defying agility, his face once again glowing with the blush of youth, he continued, with impeccable timing, to play his fiddle under his chin, down on his chest, behind his back, between his knees, and on the floor between his feet, the flourish ending with a perfect toss of the bow being caught in mid-air. It had been a moment of magic, and our applause filled the room. Even for an audience of two, Pappy was still a great entertainer.

Pappy passed away at the age of 86 in November 2001 after nearly 80 years of making music on the fiddle.