GEORGE PRITCHARD
1928-2010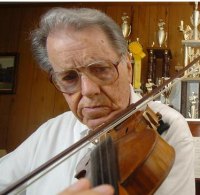 Go to the Archives to hear George Pritchard


George Pritchard grew up in Polk County, North Carolina, and got his first fiddle for $9 when he was around 9 years old. He worked in the peach orchards carrying water to the workers, and saved his money to buy the fiddle from a man down the road from where he lived.

Later George formed a band called the Dusty Mountain Boys in Spartanburg, SC. In the 1950s they moved to the Augusta, GA area to play on the radio and TV. They became a regular fixture on station WRDW, where they were featured on the show "The Peach Blossom Special". From this time forward, George resided in North Augusta, SC.

In his over 70 years of playing the fiddle, George won over 130 trophies in fiddle contests. In 1955, he won the Southeastern Fiddle Championship. Over the years he had offers to go to Nashville, including one offer to be Faron Young's fiddler, but he turned down these offers and chose to stay at home rather than live a life on the road. In his later years, George played regularly with the band "Savannah River Bluegrass". George passed away in 2010.